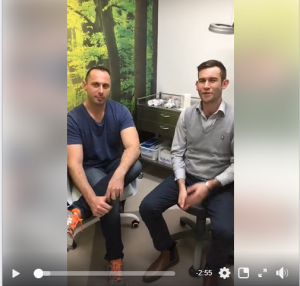 Bunions are a common topic discussed in the clinic.
As a matter of fact, bunion was rated as one of our most popular read post on social media and we just had our fantastic podiatric surgeon, Dr Ozan Amir, based in Sydney, introduced himself to the clinic. We recently sent a patient to him which we had excellent feedback regarding his work, service and patient experience. He is also heavily involved in the Podiatry Association Board, universities and mentoring fellow trainees to become podiatric surgeons himself. Press on this link to see our short interview with Dr Amir:
https://www.facebook.com/brindabellapodiatry/videos/2113260125621371/?hc_ref=ARTnOJY5YmnsKNuXVBOyTfNNWR2L0-TRdzOBgOJ4J4H_RNGODhAjh_4Qi6vj4BMwjDs.
To provide you a summary of what is a bunion, bunion is a form of osteoarthritis and it is referred to as a "Hallux -Abductor-Valgus (HAV)" joint deformity due to the angle of the joint alignment. Bunions can be develop for several reasons: 1) Trauma – Damage to the joint, 2) Footwear – Tight shoes, 3) Hereditary – Family history can make you prone to developing bunions, 4) Biomechanics – Pronatory foot type, 5) Medical condition i.e. Rhuematoid arthritis, sero-negative autoimmune conditions, gout etc.
There are various treatments that can be used to manage the progression of a bunion. When I say "progression", you must note bunions cannot be eliminated conservatively, it can only be fixed through surgical intervention. The conservative and surgical treatments can diversify depending on the stage of the bunion. There is stage 0-3 based on the Manchester Scale which is shown on the image in your left hand side.
We typically suggest conservative treatment first as not all bunions required surgical intervention. Stage 1-2 can be readily manage via wearing appropriate footwear, exercise and acquiring orthotic to support the joints at and adjacent to the bunion. To further elaborate:
Footwear: Minimal heel (no higher than 5cm), wide forefoot space and medial arch support with a firm heel counter.
Exercise: Strengthening of the 1st toe and mobilising the 1st toe joint.
Orthotic: Support the joint line to prevent further joint deterioration. Can come in different shapes and size. We can make to fit into your active runner to work wear i.e. court shoes and business shoes.
Now for those in stage 3, this is wear it can be pretty difficult to manage conservatively. This does not mean you have to consider surgery solemnly. It means we have to be realistic about what we can achieve via conservative management. This treatment approach will assist with alleviating pain consequently from the bunion, however aesthetically it will not reduce or eliminate the bunion. If you are after a complete resolution, this is where we introduce you to the surgical aspect of bunion treatment.
There are multiple techniques involved to surgically operating on a bunion. Typically, the most minimally invasive surgery (MIS) is selected to provide the best outcome. Saying that, it is wholly dependent on the structure of the bunion. According to Dr Amir description, "minimally invasive foot surgery is a small incision made in the patients' skin and a specially designed instrument is inserted into this opening. The entire procedure is performed through this tiny opening. At the conclusion of the surgery, a small bandage protects the area. The condition has been corrected, the patient remains ambulatory and discomfort and prolonged disability have been avoided." To learn more about Dr Amir bunion procedures, click the link here: https://podiatricsurgerycentre.com.au/what-is-podiatric-surgery/.
So here are the options we can provide to treating your bunion. It's today's modern healthcare, it is all about informing the patient what their options are and what we think is most effective for the patient. If you notice a bunion starting to form or been struggling with bunions for years, come and consult with a podiatrist who is determine to keep you on your feet and maintain the active lifestyle that you deserve!
Written by Lydia Kim.
Call us at 6293 2024
Email: info@brindabellapodiatry.com.au
Book An Appointment – click the link below: https://brindabellapodiatry.com.au/online-podiatry-appointment-booking/